7 Kanjo Natural Pain Relief Products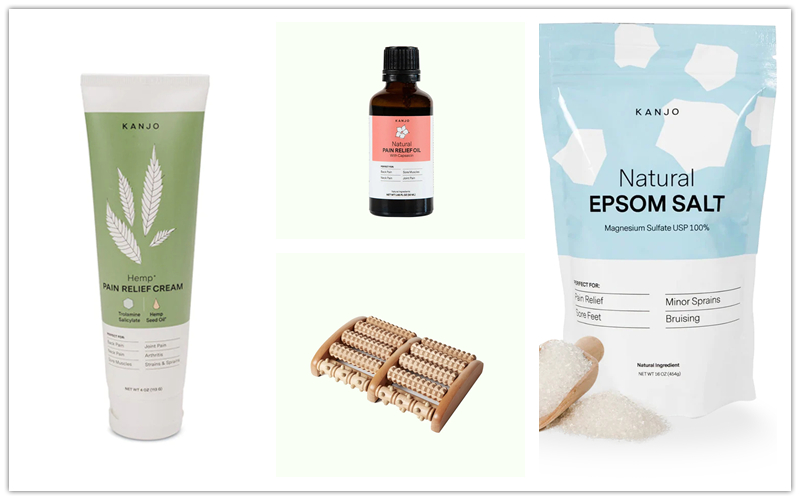 September 28, 2022
2,393 views
Don't let pain bog you down. Check out these natural relief products to improve the quality of life.
With Kanjo Pain Relief Ice Roller, you can create a perfect cold therapy for managing pain, swelling, muscle aches, headaches, migraines, and sunburn. It also helps with sinus tension. The ice-cold gel inhibits blood flow to the target area, reducing nerve activity or inflammation to relieve pain or control swelling.
Besides treating body pains, strains, and aches, this antibacterial ice roller can reduce puffiness on your skin. It makes pores smaller, creating a smooth and even complexion for applying makeup. The Kanjo Soothing Ice Roller can help with pimples or inflammation-related swelling or redness.
This product has powerful soothing and pain-relief ingredients, including hemp seed oil, arnica, and menthol. If you are suffering from pain in areas such as the neck, back, arms, legs, feet, joints, and muscles, the Kanjo Hemp Pain Relief Gel is worth trying out.
This is another effective natural relief product for alleviating back pains, muscle aches, neck pain, and joint pain. The main active ingredient in Kanjo Natural Pain Relief Oil is capsaicin. Its formulation includes natural oils with soothing effects, such as eucalyptus, geranium, and chamomile.
When absorbed into the skin, this cream can relieve pain and aches of the muscles and joints, such as sprains, strains, arthritis, and backaches. It contains salicylate, the ingredient responsible for the pain-relieving properties of aspirin. The cream formula includes cannabis Sativa seed oil and a variety of other ingredients for better results.
For centuries, Epsom salts have been a widely recognized remedy for different types of pains, aches, and skin issues. Soaking up your body in a Kanjo Epsom Salt bath for at least 15 minutes can soothe sore muscles, and feet, and reduce inflammation.
The specially designed multi-roller is an effective natural pain relieving product for people suffering from arch and heel pain. That is because it focuses on acupressure points, improving circulation and relaxation in your feet.